Social and Public Responsibility, Universities
Living reference work entry
DOI:
https://doi.org/
10.1007/978-94-017-9553-1_361-1
Definition
The notion of the university public and social responsibility (UP/SR) is generally presented, on the one hand, as inherent to the reflection on the roles of higher education institutions (HEIs) (Derrida 1992), or, on the other hand, as a recent trend, either influenced by the developments surrounding corporate social responsibility (Larrán Jorge et al. 2011), or as corresponding to the implications of the social dimension of higher education that were voiced by the London Communiqué in 2007 during the so-called Bologna process (http://www.ehea.info/article-details.aspx?ArticleId=43). The definition is, therefore, dependent on the positioning of the concept in a continuum that ranges from a conservative-managerialist to a transformative-critical pole. The former views UP/SR mainly from the perspective of organizational governance and institutional reputation (e.g., Jongbloed et al. 2008), with no particular attention to research and teaching; the latter advocates for a vision of UP/SR that permeates the whole mission of universities, thus implicating a wide range of HEIs' activities including research, teaching, governance, and interaction with the glocal community – such as business, industry, and the social sectors – with an emphasis on environmental and social sustainability (e.g., Amorim et al. 2015; Vallaeys et al. 2009; Villa Sánchez 2014). We propose that the former pole is conservative as it allows HEIs to appear to change by leaving their core mission (teaching and research) untouched, while the latter rests on the assumption that UP/SR involves a deep transformation at all levels of the institutional endeavor.
Conceptual underpinnings of UP/SR
The idea that the mission of universities inherently involves a public and social responsibility is particularly well translated by William Chase's (1923) discussion on the role of the state university in the United States, as committed to the "service of the commonwealth (…) an essential part of the great common enterprise of citizenship which links together the people of its state" (p. 519). For Chase this implied inclusiveness, both from the point of view of students (in terms of social class, ability and gender) and disciplinary areas (that is, more academic together with more professional-oriented courses), but also an emphasis on "producing public-minded alumni" (p. 520) concerned with the well-being of their community. It should be noted that this is not an unproblematic notion, as demonstrated by the conflict, more than 100 years before, between the King of Prussia and Immanuel Kant regarding the faculty's commitment to the development of young students and, at the same time, to the State (Derrida 1992). Derrida (1992) describes how the conflict led Kant to argue for the absolute autonomy of scholars in terms of the creation and evaluation of knowledge – thus instituting the idea of academic freedom – even if this can be regarded as only a delegated, and thus heteronomous, power. In a similar vein, Zgaga's (2009) four major archetypes of the European university that correspond to goals related to career development (Napoleonic), promotion of knowledge and research (Humboldtian), personal development (Newmanian), and citizenship (Deweyan) also illustrate how the public and social responsibility of the university has been differently framed across time in ways that remain, until today, diverse but fully articulated constituents of the mission of higher education, as the 2007 London communiqué clearly demonstrates (http://www.ehea.info/article-details.aspx?ArticleId=43).
Discussions on UP/SR have, nevertheless, been influenced by developments in the field of corporate social responsibility. One notable example is the set of guidelines launched in 2010 by the International Organization for Standardization to support organizations in their efforts regarding the sustainable environmental, social, and economic development of communities. The ISO 26000 (International Organization for Standardization 2015) advocates that social responsibility (including core subjects such as human rights, fair operating practices, or community development) should be integrated at all levels of the organization by adhering to seven principles: accountability, transparency, ethical behavior and respect for stakeholder interests, for the rule of law, for international norms of behavior, and for human rights. These guidelines have been an attempt to achieve a consensus in a field where (corporate) social responsibility is traditionally a very contested and diverse concept (Votaw 1972), within a highly fragmented literature (Aguinis and Glavas 2012) with theories that range from instrumental, political, ethical, and integrative goals (Garriga and Melé 2004). But the ISO 26000 has been recognized as inspirational also for researchers in the field of USR (e.g., Vallaeys 2014b), corresponding to "a philosophical reconstruction of a definition of social responsibility in terms of co-responsibility" (p. 90).
More broadly, several intergovernmental organizations, such as the UNESCO (1998, 2009) or the Council of Europe (2006), have also made significant statements that influenced developments in the field of UP/SR. The UNESCO's Final Report of the World Conference on Higher Education (2009), for instance, affirms social responsibility as involving "vital functions" of HE such as (i) promoting "peace, justice, human rights as well as support public health and sustainable development," (ii) encouraging students "to undertake scientific and technological research that informs public policy" and serves societal needs and sustainability, (iii) fostering "dialogue and the exchange of knowledge and well-informed opinions" but fully guaranteeing academic freedom, and (iv) advocating "cross-border knowledge sharing" that goes beyond a North-South divide (p. 20). The Report additionally emphasizes a diversity of other elements such as the inclusion of students' perspectives regarding educational provision, the promotion of active citizenship and skilled human capital, the development of community-based engagement (e.g., participatory research, community service learning), the interaction with government and industry "for innovative systems and economic growth" (p. 22), and the fostering of entrepreneurship education and of "successful sustainable development" (p. 24). The apparent broadness and likely contradiction between some of these elements suggest that, like other fashionable concepts, UP/SR risks becoming a buzzword rather than representing the "third way" in university management "over and above laissez-faire liberalism and legal coercion" (Vallaeys 2014b, p. 89).
UP/SR as a Situated Concept
In our view, it is useful to recognize UP/SR as a situated concept that emerges in the context of proximal and distal influences (see Fig.
1
). Inspired by ecological metaphors of human development (Kelly
1986
; Bronfenbrenner
1979
), we identify some of the elements that configure the meanings-of-UP/SR-in-context, recognizing the interactive and interdependent nature of the whole process of co-construction, namely that these influences operate from the periphery to the center and back again.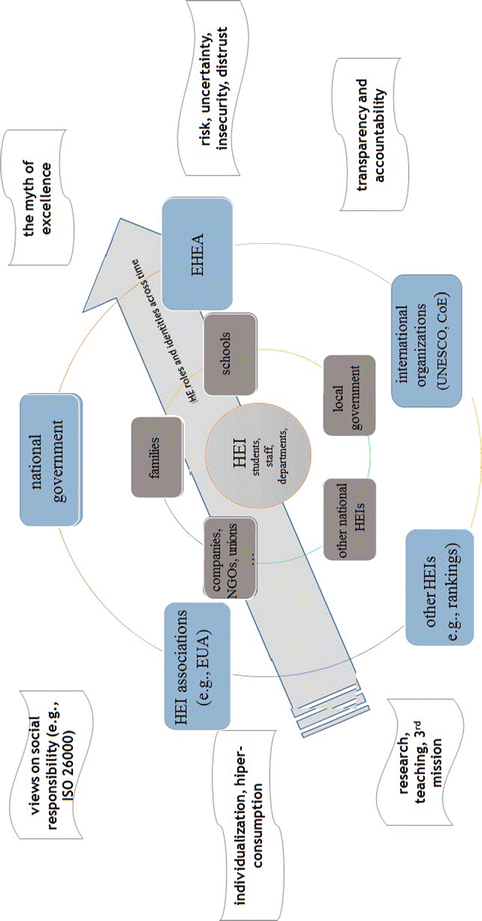 At the more distal level we observe the major discourses (depicted as flags in Fig. 1) that shape contemporary worldviews; these are obviously interrelated: in societies perceived as more and more at risk, insecure and uncertain, the call for transparency and accountability is a strategy to control the uncontrollable; similarly, individualization is quite useful to make people ultimately responsible for their own victimization, by reconfiguring structural and societal problems (e.g., the scarcity of paid employment) as individual or psychological competencies (e.g., entrepreneurship). These discourses also include worldviews about HE and social responsibility in itself; the myth about excellence in teaching or research is one of the most pervasive and delusional of our contemporary views about university, which might generate perverse effects by dislocating the discussion to impossible agonistic terrains: How can one argue against excellence and dispute its significance? Does this allow us to truly consider and expose what excellence means – and how it might suggest an emphasis on management over teaching and research (Readings 1996) as central missions of the university? All these discourses coexist in the mathesis that frames much of what we think, and how we think, about HE. Boaventura de Sousa Santos (2004), for instance, advocates that the crisis of legitimacy of the university in the twenty-first century demands an integral and contextualized assumption of social responsibility.
The normative level involves the national and international institutions that regulate the life of HEIs, that issue recommendations and policies, that turn discourses into actual guidance and constrain how HEIs operate.
The more proximal level involves institutions and organizations from the immediate community of HEIs, from stakeholders to partners or competitors – that influence the conditions in which HEIs put UP/SR in action by being more or less proactive or open to dialogue.
The HEI in itself embodies a diversity of individuals (students, staff, faculty, etc.) but also organizational devices (departments, schools, etc.) and disciplines (engineering, social sciences, humanities, health sciences, etc.) all of which involve a variety of internal expectations and challenges, but also a diversity of traditions in terms of openness towards, for instance, more fundamental versus applied approaches to research. All this has significant implications on how UP/SR is configured and put into practice. For example, community service learning is probably a much more obvious educational strategy in areas such as social or health sciences than in areas such as biochemistry or physics. But part of the university public and social responsibility is to cherish the diversity of knowledge and to accommodate this diversity. Obviously, all these nested levels of influence evolve across time, generating significant changes in the way UP/SR is constantly defined and redefined.
UP/SR as a Transversal University Mission
In spite of the variety of models of UP/SR, the major tendency is to recognize that it should involve all levels of the university mission, and therefore should not be restricted to teaching or extension/third mission activities (Amorim et al. 2015; Larran Jorge and Javier Andrades 2017; Martí-Noguera 2016; Vallaeys 2014a, b; Vallaeys et al. 2009; Villa Sánchez 2014). Keynan (2014) argues against a vision of UP/SR "as merely 'doing good' or 'giving back' to society, activities (…) interpret[ed] as elective, add-on philanthropic projects rather than comprehensive (…) principles that should be integrated into all dimensions of (…) [the HEI] life and conduct" (p. 289). As such, UP/SR should permeate the whole mission and activities of HEIs as it implies taking into account the impacts of the institution, both internally and externally. Vallaeys et al. (2009) characterize these impacts as organizational (connected to labor and the environment), social (related to the transfer of knowledge, sharing of expertise or innovation), educational (linked to the academic process and lifelong learning activities), and cognitive (articulated with the production of knowledge and involving both research and epistemological dimensions).
There are several examples of guidelines on UP/SR that illuminate its multiple dimensions (e.g., Vallaeys et al. 2009; Villa Sánchez 2014). A recent European project, EU-USR, proposed a Community Reference Framework for University Social Responsibility across the European Higher Education Area, consisting of four main standards, each of one defined by a set of criteria (see Amorim et al. 2015). The first standard, "Research, Teaching, Support for Learning and Public Engagement," encompasses academic freedom, widened and diversified access to education, proper use of public funds, cross-national mobility, ethical protocols for research, teaching and related activities, "real-world" research, and open access to research outcomes. The second standard, "Governance," includes the involvement of staff and student unions in governance and decision-making, as well as the partnership with the local community, and envisages social responsibility as a core commitment. The third standard, "Environmental and Societal Sustainability," regards inter alia the impact on the environment and human rights. The fourth standard, "Fair Practices," is defined by pluralism, diversity, and equality regardless of age, culture, ethnicity, gender, or sexuality, the promotion of health, safety, physical, social, and mental well-being of staff and students, as well as support services to meet specific additional needs of students and staff; it also refers to working conditions that guarantee equal pay and favor equitable conditions that prevent inequalities. The breadth and diversity of these criteria demonstrate how the task facing HEIs is a significant one that involves a careful reanalysis of how the university operates within and beyond its walls (Martí-Noguera 2016).
Nonetheless, this also requires a cautionary note that is a direct consequence of the ecological-situated view of UP/SR discussed above. Some readings of UP/SR seem to assume that contemporary proposals, especially from Latin America, can represent a more balanced, "third way" of the engagement of HEIs in their glocal communities (Vallaeys 2014b), thus transcending the opposition between strictly market-orientation and social justice-orientation (Appe et al. 2017): "instead of positioning economic development and social equity as competing goals as the market-oriented and social justice models suggest, RSU [the university social responsibility model of university engagement] pursues these goals simultaneously" (p. 28). It is important to remember that, as Appe et al. (2017) underlie, the tradition of university engagement is classical in Latin American universities and central to the work of both the Brazilian Paulo Freire and the Colombian Orlando Fals Borda whose pedagogy of the oppressed and participatory action-research, respectively, emerged from the recognition of a university committed to solving the severe social, educational, and political problems of the people. However, it is not possible to discuss the public and social responsibility of the university without confronting the politics of injustice, distrust, and disempowerment of current societies, both in the Global North and in the Global South.
Finally, while there is a substantial work on the definition of UP/SR and examples of projects and practices, research on the impacts of these experiences is relatively scarce. A recent review of the literature shows that the inclusion of UP/SR topics in the curricula or the promotion of community engagement projects has positive effects both on students' civic awareness and community's socioeconomic development (Larran Jorge and Javier Andrades 2017). Nevertheless, there is clearly the need for more research in this field, namely in terms of the outcomes regarding students' active citizenship, transfer of knowledge to the community and even the consequences on university governance and accountability. It seems obvious that a genuine commitment towards UP/SR involves significant challenges to HEIs, and that no less important is to systematically consider the outcomes of projects and practices, so that we can learn what elements of these interventions appear to generate desirable changes – if not, UP/SR initiatives risk superficiality and generating an appearance of change, without really addressing the problems they are expected to face. We are arguing here that the UP/SR demands that the university take seriously into account, borrowing Rushdie's book title, "the ground beneath her feet" – and therefore that, contrary to a neoliberal vision of HEIs as global organizations, freed from the shackles of the Nation-State, a serious consideration of UP/SR implies viewing each HEI as a grounded-university, anchored to its glocal community and strongly committed to in- and out-social change and social justice.
Notes
Acknowledgements
Márcia Coelho is supported by a scholarship of the CIIE/FPCEUP.
José Pedro Amorim is supported by the Fundação Para a Ciência e Tecnologia with a post-doctoral fellowship (reference number SFRH/BPD/96307/2013).
Copyright information
© Springer Science+Business Media Dordrecht 2018